Iran to pursue US non-adherence to N-deal at UN
Iran to pursue US non-adherence to N-deal at UN ...
en.mehrnews.com
13/09/2016 Politics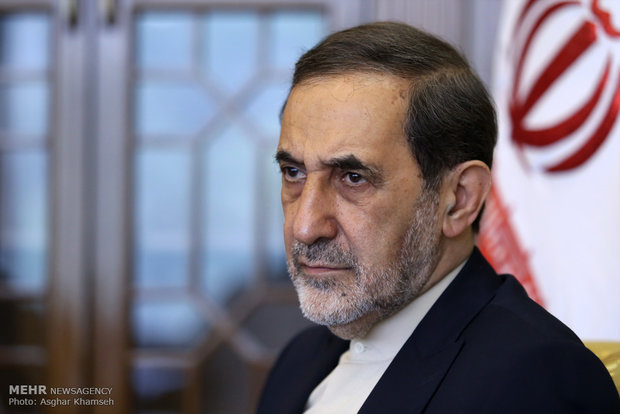 Keywords:#Afghanistan, #Ali_Akbar_Velayati, #Chinese, #En.mehrnews.com, #Foreign_Minister, #French, #General_Assembly, #Hezbollah, #India, #Iran, #Iranian, #JCPOA, #Javad_Zarif, #MNA, #Mohammad_Javad_Zarif, #New_York, #News, #Politics, #Prime_Minister, #Russia, #Russian, #S-300, #Syria, #Syrian, #Syrian_government, #Tehran, #UN_General_Assembly, #US, #Washington

News ID: 3767600 - Mon 12 September 2016 - 16:47
Politics
TEHRAN, Sep. 12 (MNA) – The US lack of commitment to Iran's nuclear deal will be pursued by Iranian delegation while in New York to participate in the upcoming UN General Assembly's annual session, said senior official Ali Akbar Velayati.
"Foreign Minister Mohammad Javad Zarif and his colleagues are well aware of the fact that the Americans did not abide by their commitments as promised, and all instances of their failure to observe their end of the deal will be pursued during the visit of the Iranian delegation to New York for the UN General Assembly session," the Leader's advisor on international affairs, Ali Akbar Velayati, said among reporters following a meeting with India's Minister of State for External Affairs Mubashir Javed Akbar in Tehran on Sunday evening.
"We distinguish between 5+1 member countries," he said, adding "undoubtedly, the behavior of the Russian and the Chinese side, or even the French side are different from other member states."
He went on to add, "for instance, Washington opposed Russia's decision to sell S-300 missile system to Iran, arguing that it was in violation of the nuclear deal, but the Russians firmly responded that the delivery of the system was not in contradiction to the JCPOA."
Velayati further stressed that Iran does not consider the 5+1 group of countries as being the same, noting that the US tends to break its promises more than others.
Elsewhere, he pointed to the US and Russia's plan for a truce in Syria, saying "ceasefire is acceptable only when all sides to the conflict, particularly the Syrian government and its allies including Iran and Hezbollah, have agreed to it."
He went on to add, "ceasefire also must not be used as a vacuum by certain terrorist groups such as al-Nusra Front to reinforce their units. The goal of ceasefire has been announced as delivery of humanitarian aid to people in need."
Velayati then touched upon his meeting with the Indian official, saying "relations between Iran and India are deeply rooted in historical and friendly ties, and the two countries have been expanding cooperation, especially since the recent visit of Indian Prime Minister to Iran and their signing of a trilateral agreement with Afghanistan."
--- ---
...

Related articles based on keyword density
IRAN NUCLEAR TALKS STUMBLE, EXTENDED UNTIL JULY ...
hosted.ap.org 24/11/2014 News
BY MATTHEW LEE AND GEORGE JAHN ASSOCIATED PRESS VIENNA (AP) -- Still facing significant differences between the U.S. and Iran, negotiators gave up on...View Details»

ISIS: The Spoils of the "Great Loot" in the Middle East - FPIF...
fpif.org 02/07/2014 Politics
Adding yet more warfare to the current crisis in the Middle East will perpetuate exactly what the imperial powers set out to do: tear an entire region...View Details»

Global "Elders" urge Iran to build on nuclear deal - The Washington Po...
washingtonpost.com 28/01/2014 Politics
TEHRAN, Iran — The former head of the United Nations urged Iran Monday to build on a historic deal reached with world powers in November and work towa...View Details»

Media Scam? Iran and America Join Hands in Waging "The Global War on T...
globalresearch.ca 01/07/2014 Politics
By Prof Michel Chossudovsky Global Research, June 21, 2014 Following the incursion of jihadist rebels of the Islamic State of Iraq and the Levant (IS...View Details»

'Nothing left' if Iran hit Saudi facility: FM Zarif ...
aljazeera.com 23/09/2019 Politics
War of words over Saudi oil attacks with the US continues as Iranian leaders arrive for the UN General Assembly. 23 Sep 2019 18:01 GMT Tensions in the...View Details»

---
EOF